Roll over image to zoom in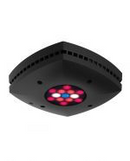 Description
Illuminate your "Fuge"
The AI Prime® Fuge LED light fixture uses a mix of Photo Red, Red, Cool White, and UV LEDs specifically tailored to provide the perfect spectrum for growing macro-algae in your refugium. Macro-algae photosynthesis is fuelled by elements in the water such as nitrates and phosphates. The more photosynthesis, the more growth > the more growth, the more nitrates and phosphates are consumed, leaving your water clearer and fresher.
With a spread of 24" x 24", the AI Prime® Fuge will illuminate most refugiums while only drawing a maximum of 46 watts, following in its AI family's efficient footsteps.
The AI Prime® Fuge, like its siblings, comes standard with 80 degree lenses giving you the best balance of power and spread. The custom designed optic lenses ensure efficient light distribution and includes a diffused exit surface which improves colour blending.

Features



• Compact fixture fits over most refugiums

• Light spectrum designed for macro-algae photosynthesis

• Versatile mounting options such as the: Prime Hanging Kit, Prime Tank Mount, and Prime Flex Arm

• myAI app easily controls light via iOS or Android devices

• Wi-Fi enabled fixture allows control without a smart phone or tablet

• Low power consumption

Dimensions:



• Length = 4.88" (12.4 cm)

• Width = 4.88" (12.4 cm)

• Height = 1.34" (3.4 cm)

• Weight = 0.95lbs. (0.43 kg)

LED Array:



6 x Photo Red CREE XP-E LEDs

4 x Red CREE XP-E2 LEDs

2 x Cool White CREE XP-G2 LEDs

1 x UV 432nm Liteon LED



Power Consumption = 46W at full power
Payment & Security
Your payment information is processed securely. We do not store credit card details nor have access to your credit card information.