Roll over image to zoom in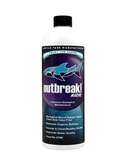 Description
ATM's Outbreak!
Outbreak is a high-powered biological sludge remover that consumes decomposing organics, leaving aquariums clean and free of waste that can cause problems for aquariums. Regular use of Outbreak! improves water quality and leaves aquariums looking their best.

When aquariums acquire a build-up of sludge, or decomposing organic material, it can leave the system looking dirty and un-kept. Most urgent is the effect on the aquarium. Slime can collect on the biofilter, suffocating the aerobic bacteria needed to filter ammonia and nitrite from the water. One marvelous attribute of this product is it's ability to completely control odors.

Like most other ATM products, Outbreak! is one of the favorite tools of maintenance companies and industries around the country and, of course, ATM the #1 aquarium builders in the world! For more information about Outbreak!, contact us!

Biological Bacteria Blend Keeps Tanks Clean And Odor Free
Removes Sludge And All Organic Buildup
Ensures A Clean And Healthy Biofilter
Safe For All Fish And Wildlife
Used By ATM!
Payment & Security
Your payment information is processed securely. We do not store credit card details nor have access to your credit card information.