Roll over image to zoom in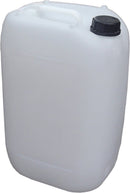 Description
RO Water

Deliveries by courier:
Your order and delivery cost includes the following.
1 x Barrel 25 litre yours to keep
1x  RO Water 25 litres  (barrels filled to weight 25kilo which is approx 24.5 litres)
Delivery to your door by over night courier but please allow upto 48 hours
The barrel is yours to keep..  You are welcome to ship the barrels back to us for a 50% refund  of the cost of the barrel at £4.50 per barrel with sender covering the shipping costs.  Due to high postage charges this option is not usually cost effective however the offer is there if you are wanting to drop the barrels in at our shop..
For larger orders of 300 litres or more please call or email us to arrange a price.

Payment & Security
Your payment information is processed securely. We do not store credit card details nor have access to your credit card information.