Roll over image to zoom in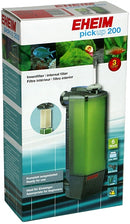 Description
The
EHEIM Internal Filter pickup 200 -2012-
is espacially designed for aquaria from 150 up to 200 l. The filter is fitted on the aquarium glass with suction cups. With EHEIM pickup system for easy and safe maintenance. Motor casing and cable remian in place in the aquarium while the filter compartment slides out easliy and safely for cleaning - in order to remove all dirt particles.
The EHEIM pickup 200 -2012- comes complete with filter sponge and is ready for use. An filter cartridge with activate carbon is available separately. The venturi air diffusor is included.
EHEIM Internal Filter pickup
+ complete filter with cartridge and venturi air diffusor
+ twist outlet for outflow direction
+ outflow nozzle with 2 positions
+ water inlet at bottom and side for total filtration
+ practical suction cup attachment
+ very powerful due the large filter volume
+ very noise operation
Technical data EHEIM pickup 200 -2012-:
for aquaria from 150 up to 200 l
pump output in l/h: 220-570
Filter volume: 0.47 l
Dimensions: 96x75x285 mm
Delivery head: 0.40 m
Power consumption: 230 V/50 Hz 6 W
suitable for frehs and marine water
3 years warranty
Payment & Security
Your payment information is processed securely. We do not store credit card details nor have access to your credit card information.