Roll over image to zoom in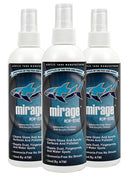 Description
ATM MIRAGE
Mirage is how Wayde and Brett get that sparkle for the big reveal and that's how you will too. Chemical cleaners work effectively while leaving no streaks, but they often contain ammonia or other toxic chemicals which are harmful to fish. ATM has developed, and uses, Mirage, the #1 glass and acrylic cleaner guaranteed to do the job while leaving no streaks, repelling dust, water spots, and fingerprints.

NON-TOXIC, NON-ALLERGENIC
Peace of mind is important in aquarium keeping. Mirage acrylic and glass cleaner offers just that as its non-toxic nature dismisses all worries associated with tank cleaning. Nothing cleans, polishes, and maintains the viewing experience of your aquarium quite like Mirage.

Use

Non-Toxic Formula Cleans And Polishes
Ammonia-Free, Leaves No Streaks
Repels Dust, Water, And Fingerprints
Leaves Smooth Finish That You Can See And Feel!
Payment & Security
Your payment information is processed securely. We do not store credit card details nor have access to your credit card information.