Roll over image to zoom in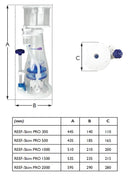 Description
Product Summary
High performance professional skimmer CNC engineered from high quality materials with an advanced cone shaped body designed for optimum air to water contact for increased efficient skimming.
The TMC REEF Skim pro DC Skimmers also has a unique controller to enable you to control the pump with a click of a button, complete with and handy feed setting enabling you to turn the skimmer off for a short period of time while you feed you fish or corals and automatically turns back on after a period of time returning to the previous setting.
Description:
High performance, professional skimmer incorporating an advanced, cone-shaped design.
CNC precision engineered from the highest quality materials.
Conical body design ensures the optimum water-to-air contact time and naturally encourages the unrestricted concentration of bubbles upwards towards the collection cup for intensive, efficient skimming.
Patented bubble diffusion plate system ensures uniform dispersal of micro fine air bubbles across the entire skimmer column.
The unique, needle wheel injection system has been developed specifically to ensure the perfect mix of micro fine air bubbles and water for optimum skimming.
Unique, innovative air intake silencer offers precision adjustment of air flow into the skimmer for optimum performance and also allows simple connection to an ozone generator.
User-friendly design, including a large, easy to remove collection cup with drain system, ensures all parts of the skimmer can be accessed for effortless maintenance and cleaning.
Simple water level adjustment dial allows water level and flow to be finely tuned to ensure optimum foam consistency and highly efficient skimming.
Supplied complete with a custom-made, high performance needle wheel pump designed to deliver the optimum flow rate and performance.
Includes Pump:
Variable speed control offers precise adjustment of water flow for optimum performance.
Integrated feed timer. This will shut off the pump for 10 minutes to allow easy feeding.
Soft Start feature increases impeller durability.
Low wattage.
Specs:
12 month guarantee.
Ozone compatible.
Payment & Security
Your payment information is processed securely. We do not store credit card details nor have access to your credit card information.