Roll over image to zoom in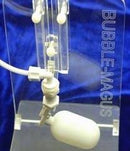 Description
Bubble Magus Float Valve
This Bubble Magus Float Valve is a simple and easy to use flooding prevention component for your Reverse Osmosis system. The valve which comes with holding mount and pipe together with full instruction for assembly, can be used on a glass thickness of 14mm.
The Bubble Magus Float valve is made from acrylic plastic with a white finish and comes with a 2 meter pvc pipe. The small compact float valve allows you to place it in tight locations and can also be either hung outside of a sump or attached through a drill hole
The float valve is used to shut down your reverse osmosis system once the float is elevated. The installation of the Bubble Magus Float Valve is perfectly easy to assemble and prevents the risk of flooding your floor with water.
At A Glance
Suitable for various Reverse Osmosis Systems
Easy to assemble
Prevents the risk of flooding
Equipped with holding mount, pipe and full instructions
Payment & Security
Your payment information is processed securely. We do not store credit card details nor have access to your credit card information.