Roll over image to zoom in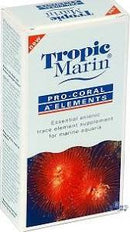 Description
Tropic Marin Pro Coral Elements 200ml
Essential trace elements are minerals, which are needed in small amounts by the aquarium inhabitans for active biological processes. Tropic Marin Pro-Coral A- Elements provides these minerals in an optimized formula designed to replace depletion from the consumption by corals and invertebrates.
Tropic Marin Pro-Coral A- Elements contains:
bromine, fluorine, iodine, lithium, molybdenum, selenium and vanadium in anionic form
Recommended dosage:
Add 1 ml per 100 l of water per day in the circulation flow of the system. Trace element demand increases with increased aquarium population density. Do not exceed a dosage of 2 ml per 100 l of aquarium water per day.
Payment & Security
Your payment information is processed securely. We do not store credit card details nor have access to your credit card information.