Roll over image to zoom in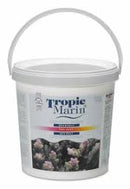 Description
Tropic Marin Pro Reef Salt 
This new synthetic sea salt is aimed at the specific requirements of modern reef tanks: optimised calcium and magnesium concentrations promote coral growth and make it easy to care for even the most sensitive hard corals.
Tropic Marin® PRO-REEF's buffering system and pH-level have been specifically formulated to stabilise water conditions in your aquarium. This means that the KH level in your aquarium will not be affected, even when using calcium supplements.
PRO-REEF is also particularly beneficial when employing infrequent or small water changes, using RO water for making up a seawater mix.
Payment & Security
Your payment information is processed securely. We do not store credit card details nor have access to your credit card information.